Leisure
Leisure
What do you actually do in Switzerland when you're not working? Since free time also plays a major role in a positive work-life balance, we naturally don't want to leave this topic unmentioned here.
Newcomers to Switzerland sometimes feel upstaged by the locals because they like to keep to themselves. However, that doesn't mean that the Swiss aren't open-minded toward strangers – it just takes them a little longer to thaw out.
There are many ways in which you can get in touch with the locals. Mostly you have to make the first step. Once you have dared to do so, you will quickly find that the locals will quickly welcome you in their midst.
Sports clubs
One of the easiest ways to get in touch with other people is through a shared hobby. Sports and other interest clubs are particularly well suited for this purpose. About 30% of all Swiss are active in one or even more sports clubs. Very many clubs – especially in rural regions – are manageably small with fewer than 100 members, which makes for a family atmosphere.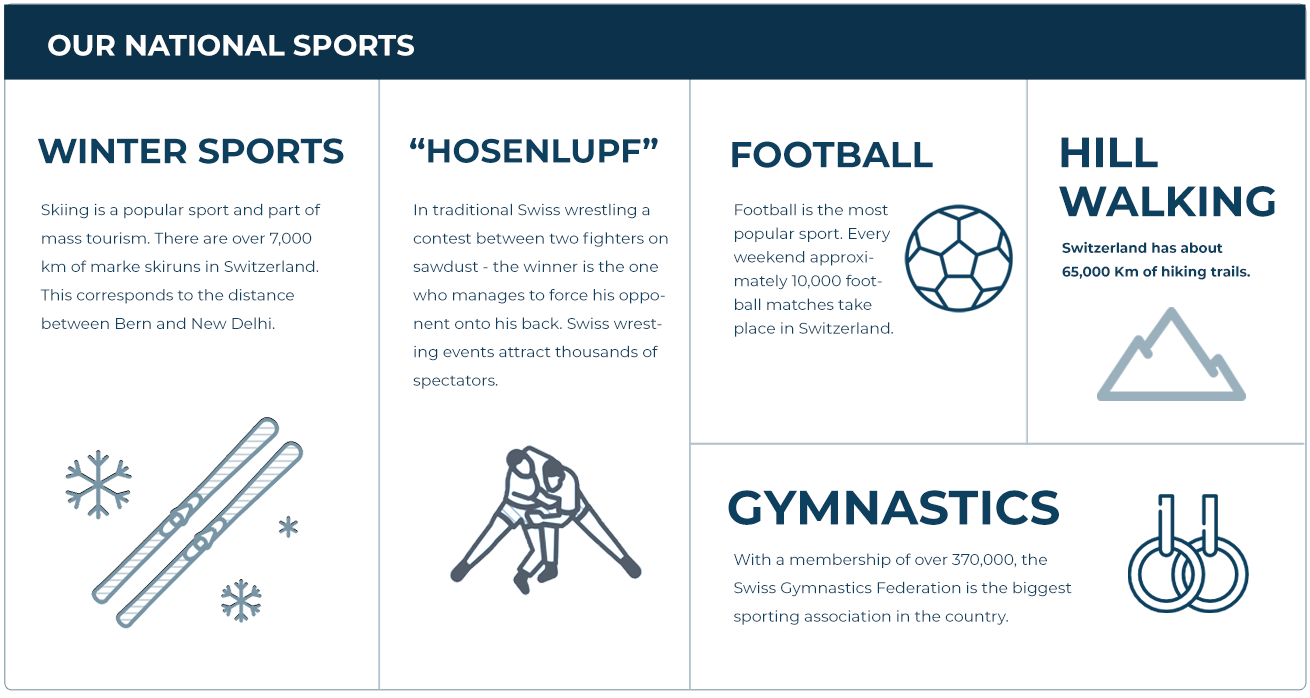 In most sports clubs, the focus is not only on playing sports together, but also on socializing. The clubs therefore also regularly organize non-sporting events where people simply sit together socially and have fun. This strengthens the social bond with each other and is a nice way to get in touch with people from the neighborhood.
If you would like to pursue your favorite sport in Switzerland as well, look around for appropriate clubs in your new home. With more than 150 sports offered by the over 19,000 sports clubs in Switzerland, there is sure to be an activity that appeals to you.

Volunteer
If you feel like volunteering for a good cause, there are also many opportunities to do so in Switzerland. For example, you can get involved with the Red Cross or the volunteer fire department to help your fellow human beings. In the field of animal protection and nature conservation, volunteers are also always needed.
Especially if you yourself have been living in Switzerland for a while as a foreigner, you can get involved in migration assistance and give other immigrants useful tips and help to make integration easier for them.

Integration courses
Integration courses are offered for immigrants to Switzerland, especially in large cities and urban regions. The courses on offer range from general events to language courses.
Such integration offers make it much easier for them to get started in their new society. There, you learn everything important about life in Switzerland: from trivial things like correct waste separation to information about dealing with the authorities. You can also ask questions and raise personal concerns. This often saves a lot of time and nerves, as it is not always easy to gather all the necessary information, especially if the language is an additional hurdle.
Mingle with the people
There are plenty of opportunities to go out in Switzerland. Often, you go out for an after-work beer with your colleagues. Especially if you're new to Switzerland, your local colleagues can be great at helping you integrate into Swiss society. There are also some Expat communities which you can join to connect with like-minded people as InterNations, IamExpat or more.
Insider tip
The bigger cities are known for a vibrant nightlife, so if you want to go clubbing, visit Zurich, Basel, Bern, Geneva or Lausanne. But also the smaller places always have some nice bars or clubs to dance.
With your family or even as a single person you can do many things. Culturally, Switzerland has a lot to offer. In larger cities there are museums, cultural centers and theaters and many other.
With the alps practically on your doorstep, it's easy to take a family outing into nature, or a hiking tour. No matter where you go and what you're in the mood for, you'll soon discover that Switzerland has a lot to offer – and that the locals are quite nice and warm people after a certain period of acclimatization.