Driving a vehicle
Driving in Switzerland
General information about driving in Switzerland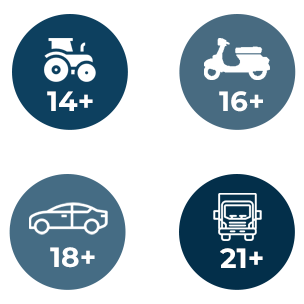 Right-hand traffic applies in Switzerland. Driving a vehicle is permitted for persons 18 years of age and older; trucks and other large vehicles may only be driven from 21 years of age. Fun fact: A small motorcycle or a tractor can already be driven from 14 years upwards.
In order to be able to drive on freeways, a vignette must be purchased every year. This can be obtained at customs or at gas stations. The price is currently CHF 40.
On highways, the maximum speed is 120km/h, unless otherwise indicated by a sign. A maximum speed of 50km/h applies in built-up areas.
Fines
Traffic offenses are also fined in Switzerland. While a parking fine usually costs around 40 Fr., forgetting the motorway vignette can even be fined up to 200 Fr. The amounts are recommendations from the federal government, but vary slightly from canton to canton.
Speeding – warning, reprimand and driver's license withdrawal
A warning is issued for a minor violation of traffic regulations. It is a kind of "yellow card" and does not include a driver's license withdrawal. However, if you continue to violate the traffic regulations in the following two years, you must expect more severe consequences. Violations of 21 km/h or more in built-up areas, 26 km/h or more outside built-up areas and 31 km/h or more on the highway will result in a fine and a driver's license suspension of at least one month. If you exceed the speed limit of 25 km/h in the city, 30 km/h outside the city or 35 km/h on the highway, your driver's license will be revoked for at least 3 months. In the case of a repeat offense, the duration of the driver's license re-vocation will be significantly increased.
Misdemeanor
Speeding – depending on the amount of the violation may vary by canton and result in a criminal complaint / suspension
Failure to carry the driver's license
Exceeding the permitted parking time up to 2 hours
Telephoning without hands-free equipment
Not or not well visible attachment of the parking disc on the vehicle
Stopping on a pedestrian crossing
Failure to yield the right of way at pedestrian crossings
Unnecessary preheating of the engine
Overtaking on the right on the highway
Disregarding the formation of an emergency lane on the freeway
Disregard of zipper principle on the highway
Missing the freeway sticker
fine in francs
40.- – several thousand
20.-
40.-+
100.-
40.-
80.-
140.-
60.-
250.-
100.-
100.-
200.-
Exchanging driver's license
A valid driver's license is required to drive a vehicle. Foreigners may drive in Switzerland for up to one year with a driver's license from their home country or an international driver's license. After that, a Swiss driver's license must be applied for at the traffic licensing authority. Necessary for this are:
Completing the application to exchange the foreign driver's license for a Swiss driver's license
Enclose the previous driver's license (will then be stamped as "invalid in Switzerland")
Proof of a vision test by an ophthalmologist confirming good enough eyesight
Passport photo
Foreigner's identity card (B or C permit card) as confirmation of residence
Having vehicle safety checked
Vehicle safety is checked regularly and is mandatory for every vehicle. The inspection takes place at the motor vehicle inspection (MFK) and is carried out every two to five years, depending on how old the vehicle is. If a defect is found, it must be repaired as soon as possible. As long as the defect exists, the vehicle may not be moved (or only for driving to the car repair shop).
Buying vehicle
To register a car in Switzerland, you need to be a Swiss resident. The purchase is possible either from private persons or from a vehicle dealer. The latter usually also takes care of some formalities. The buyer must also apply for a license plate at the cantonal road traffic office and have the seller hand over the vehicle registration document. In addition, the vehicle must be insured with a Swiss motor vehicle insurance.
Useful resources
Swiss Authorities Online – government portal with information on cars and driving in Switzerland: https://bit.ly/3W5pTj1
Federal Office of Roads (Bundesamt für Strassen – ASTRA) – Swiss authority for roads and traffic: https://bit.ly/3swM7gp
ASA: Association of Automobile Services (Vereinigung der Strassenverkehrsämter/ Association des services des automobiles/ Associazione dei Servizi Della Circolazione). This website is offered in German, French, and Italian: https://bit.ly/3D8Kqur
Importing vehicle
If a vehicle is to be imported into Switzerland from abroad, the following documents or proofs are required:
Insurance certificate of a Swiss motor vehicle insurance
Foreign vehicle documents/registration certificate
Audit report of the customs office
Certificate of CO2 tax; obtained after the vehicle has been inspected by the Motor Vehicle Inspection (MFK).
The vehicle does not have to be cleared through customs, or it can be imported tax-free if it can be proven that the vehicle was already in the possession of the vehicle owner for at least six months before the move to Switzerland. The vehicle must also be held for at least 12 months after the move to Switzerland.
In all other cases, Swiss VAT of 7.7% is due upon importation, as well as vehicle tax of 4%. The current value of the vehicle serves as the basis for calculation. In addition, customs duties may also apply, depending on where the vehicle was manufactured (not purchased!) and how high its weight is.
Insure vehicle
In Switzerland, there are three insurances for a vehicle:
Liability insurance
Comprehensive insurance (optional)
Accident insurance (provided by employer or health insurance)
Liability insurance is mandatory for every vehicle. It covers damage to third-party property and injuries to third parties. Comprehensive insurance covers damage to the vehicle and theft. Accident insurance covers damage to passengers.